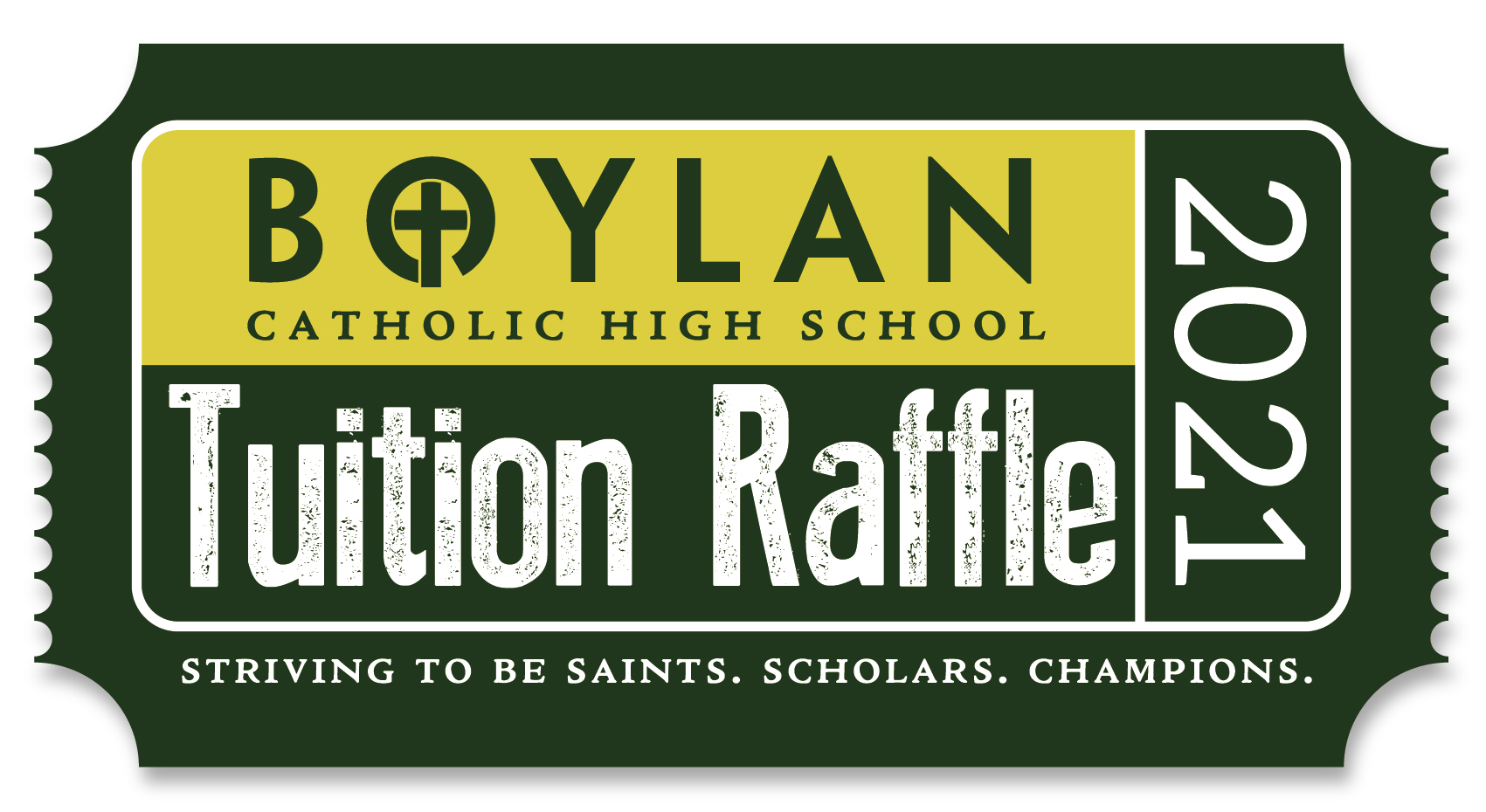 Boylan Catholic is excited to announce our first tuition raffle! Tickets for this exclusive raffle are only available for current students and rising freshmen. First prize for the tuition raffle is a full-tuition credit for the 2021-2022 school year. Second prize is a half-tuition credit for the 2021-2022 school year.
All proceeds from this raffle will support the 2020-2021 Annual Fund providing need-based tuition assistance to Boylan students.

Purchasing of Raffle Tickets is now closed.
Tuition Raffle Rules and Tax Guidelines
Boylan Catholic is very excited to announce the introduction of the Tuition Raffle to support our Annual Fund.
The First Prize is a full-tuition credit for the 2021-2022 school year.
The Second Prize is one-half tuition credit for the 2021-2022 school year.
Only one winner for each prize will be selected.
The winner will be announced on June 7th, 2021 at our Boylan Open.
The ticket holder does not need to be present at the drawing to win.
Please help us in reaching our goal of selling 700 tickets.
There is a minimum of 250 ticket sales for the full value of tuition to be awarded. Under 250 tickets sold will convert to a 50/50 raffle with the winnings divided 66% to the first prize winner and 33% to the second prize winner.
Prize is for tuition credit only. No cash option is available.
Full terms and conditions below.
Q: Can only Boylan Catholic families buy tickets?
A:
The raffle is open to anyone 18 or older who would like to purchase a ticket, regardless of if they have any affiliation with Boylan Catholic. The tuition prize can only be used for students planning to attend Boylan for the 2021-2022 school year and the winning individual ticket must be applied to a relative of the winner.
Q: What are the odds of winning?
A:
A max of 700 tickets will be sold, so the odds will be 1:700 if all tickets are sold.
Q: How can I purchase tickets?
A:
Raffle tickets will be sold exclusively online.
Q: How will the Raffle benefit Boylan Catholic School?
A:
The money will benefit the Boylan Catholic Annual Fund. Specifically, all proceeds raised by this raffle will go directly toward need based student assistance for qualified students.
Q: Can my raffle ticket be mailed to me?
A:
Unfortunately, due to raffle permit regulations, raffle tickets can't be mailed due to postal regulations. Tickets are sold exclusively through the Boylan website.
Q: I have additional questions. Who can I reach out to?
A:
Please contact Jeff Marrs in the Advancement Office at 815-877-8008.
Terms and Conditions
Raffle tickets may be purchased for $100.00 each, 3 for $250, or 7 for $500 at https://www.boylan.org/raffle.
First prize is a full-tuition credit for one student to attend Boylan Catholic School during the 2021-2022 school year. Second prize is one-half tuition credit.
Only one winner will be selected for each prize.
The raffle prize must be applied to a family's tuition obligation at Boylan Catholic for a student's tuition for the 2021-2022 school year. Any additional student fees will still be the winner's obligation.
In the event that the winning ticket holder has already completed payment of their tuition obligation for the 2021-2022 school year, the winning ticket holder may apply the previous payment to charges for Boylan Catholic School activities and fees and receive a refund of the balance that had been paid toward tuition, or may request a full refund of the previously made payment.
The cost of the raffle ticket is not tax-deductible.
No refund or compensation will be provided if the winning ticket holder withdraws a student at Boylan Catholic School for the 2021-2022 school year or if a student completes only part of the 2021-2022 school year.
Prize winnings are considered taxable income; accordingly, the individual winner will be issued a W-2G in February 2022. The winner must provide Boylan Catholic School a completed and signed W-9 before the proceeds will be credited to a student's account. Boylan Catholic will withhold taxes on the winnings in accordance with the IRS and Illinois Tax Commission regulations. This is anticipated to be 24% of the winnings. The stated amount on the W-2G will be the cost of tuition plus the 24% withholding tax to ensure the prize winner is awarded the full prize amount.
If the winning ticket holder does not have a student enrolled at Boylan Catholic School for the 2021-2022 school year, then the winning ticket holder may either (1) transfer the prize to another related, eligible family that has a student enrolled at Boylan Catholic School for the 2021-2022 school year; or (2) transfer the value of the prize to Boylan Catholic School to be used for financial aid or other educational needs.
In the event that the winning ticket holder is eligible for financial assistance for the 2021-2022 school year from Boylan Catholic School, the value of the prize shall be equal to the remaining amount to be paid by the winning ticket holder after reduction from the financial aid package.
In the event that the winning ticket holder receives financial assistance from Boylan Catholic School toward tuition for the 2021-2022 school year, the awarding of the prize shall not impact the winner's eligibility for financial aid for any subsequent year at Boylan Catholic School.
Two hundred and fifty tickets must be sold for this raffle to take place with tuition as a prize.
In the event that less than 250 Tuition Raffle tickets are sold, the Tuition Drawing will be converted to a 50/50 Raffle. The total dollar amount of the proceeds will be split 50/50 between the winning raffle ticket holder and Boylan Catholic School with the prize being applied to the winning ticket holder's 2021-2022 tuition account.
Raffle ticket purchases are available only to those persons 18 years or older.
Each ticket shall represent an equal opportunity to win the raffle.
The winning ticket will be selected on Monday, June 7th at the 2021 Boylan Open at Mauh-Nah-Tee-See Country Club The winning ticket holder does not need to be present at the drawing to win.
The winner will be notified by phone and/or email by Tuesday, June 8th, 2020.
All proceeds of the raffle are for the benefit of Boylan Catholic School, a 501(c)3 nonprofit organization registered with the Secretary of the State of Illinois.
Winnebago County Raffle License #30485